Realtime CSG can be used with one view, but when designing levels it's better to see your level from multiple sides at once. To make this easier Realtime CSG has some enhancements to Unity to better visualize your level. If you're not interested in setting up a 4 view layout, you can skip this section.
First you change your layout in the top right section, and select the 4 split: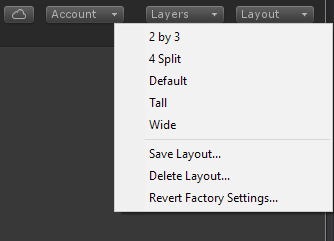 And then set up your views one by one to have 3 orthographic views, and one perspective view. The orthographic views should each look at the scene in top/bottom, front/back and right/left. That way you can see everything from each side.
You can set the view in the top right corner of each sceneview. You can right click on the bottom to select the direction or use the gizmo directly.
Once you've done that, for all the ortho (2D) views you want to turn off the skybox and other effects. You can do that by clicking here:
You probably want to turn off the lighting too (the sun icon).